when pumpkin met thanksgiving..
a polka dot pumpkin pie was born!
A few days ago was Canadian
Thanksgiving
, and so in true Australian style we celebrated with a
thanksgiving bbq!
The only similarity to the Canadian Day was that there was pumpkin pie and we were thankful for it :D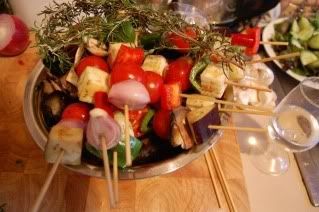 I read billions of recipes to come up with this one and found it difficult to find one without tinned pumpkin puree. I'm not a great fan of tinned moosh when I can make it myself so easily.
First things first, I chose a
Japanese Pumpkin
because I think they are sweeter than the others and I can't get sugar pumpkins here in Australia (I wish I could - they are so cute!)
For the crust:
1/3 cup whole wheat flour
1 cup plain flour
2 Tablespoons brown sugar
1 teaspoon ground cinnamon
1/4 teaspoon salt
6 Tablespoons cold unsalted butter, cubed
3-4 Tablespoons cold soy milk
In a large bowl, add both flours, sugar, cinnamon, salt and mix together. Add in cubes of butter and mix together with your fingertips until it resembles breadcrumbs. Add in small amounts of the milk until your dough forms a ball.
Shape it into a disk and wrap in cling wrap. Chill in fridge for a few hours or over night.
Remove from fridge and roll out between two sheets of glad wrap until it is about 5mm thick. Transfer to a pie dish, prick the base with a fork and crimp the edges. Bake in a 180C oven for about 10 minutes or until slightly cooked but not browned.
For the puree:
1 pumpkin, roasted, pureed (you need 2 cups of puree)
egg replacer, to the equivalent of 3 egg whites, whipped
1 & 1/4 cups cream
3/4 cup brown sugar
2 teaspoons ground cinnamon
1 teaspoon ground ginger
1/2 tsp ground nutmeg
1/4 teaspoon ground cloves
1/2 tsp salt
Cut pumpkin into chunks and roast in a 180C oven until soft. About 1 hour. Remove and wait until slightly cooled, peel and mash. Then use cheesecloth or a tea towel to squeeze the puree to remove the excess moisture. Add in the rest of the ingredients and season to your taste. I like extra cinnamon :D
Pour puree into pre cooked pastry and bake in a 170C oven until the filling is firm, about 40 minutes.
weeee also had another pie. Yes,
two pies in one day
. This one was
Banoffee Pie
! Amazing, super simple and super sweet and delicious!